Back To Blog
Although there can be some slight disadvantages with the electronic ways of today's world, there is also twice as much advantage to it, and that goes even for the locks that we are putting in our homes. Everything is getting more advanced and even more convenient, and it's important that you stay up to date with something as important as locks in order to stay safe and secure, and keep your family that way as well.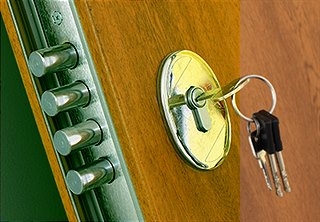 With that being said, it's also important to have a professional put in your locks to make sure that they are as secure as possible and are being used to their fullest potential.
Let's look at some of the best options we have in 2017!
SoHoMill YL 99 Keyless Keypad
This is the perfect choice for someone who wants to keep it simple, doesn't want to spend too much money, but still wants a nice modern look. It's a simple yet contemporary design that will allow you to easily get in and out without having to fumble for keys... not to mention it's not that expensive!
August SmartLock
The August Smartlock is probably the latest release in home security technology as far as locks go. If you've ever used the phrase "there's an app for that", then this lock might be for you. It uses Bluetooth technology or even your home's Wi-Fi to get information and allow your phone to lock and unlock it. It replaces the deadbolt on your door, and while it may sound not so secure, it's been through rigorous testing and competes with some of the most secure locks to date.
Kwikset Kevo
The Kevo was one of the first locks released when the electronic locks craze began to catch on. Kwikset used their traditional yet classy design to give this lock a new but familiar look to us all. The lock can be locked and unlocked with your smartphone or it can use RFID technology to be unlocked with a key fob, much like some of the cars out there today. Again, if it doesn't sound too secure to you, no worries, it's been through some pretty rough tests and passed every time with flying colors.
Samsung Digital Door Lock
Samsung has been around for a long time in the world of technology, and there's a reason for it; they make quality things. This lock that they have designed, built, and tested is no different. Like most things Samsung, it contains a very sleek and contemporary looking design, and the keypad itself is touchscreen, although that's not the only way to open it. The Samsung lock has multiple features and options that basically allow it to become whatever type of lock you want. On top of that, Samsung offers a full security system that wirelessly connects and communicates with this lock including security cameras, sensors, etc.
We hope that some of these options have helped you at least get a starting point on finding the right modern lock for you!